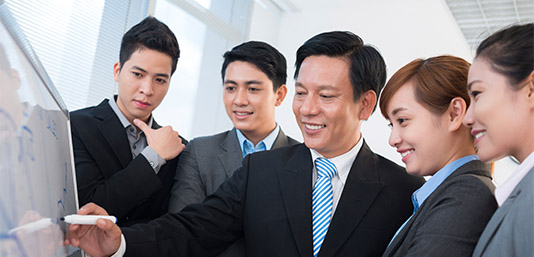 Tradeally was founded in 2007 in Singapore by Mr. Darick Tan. It went on to expand and now has its headquarters in Bangkok, Thailand, with a service office in Singapore, and successful regional implementations in Malaysia, China, Europe and the Middle East.
With more than 15 years of experience in the printing and packaging industry, Tradeally has grown to be a leading professional trading and consultancy services company. Mr. Tan has gathered a vast amount of knowledge by travelling to Europe and attending expos, thus gaining new insight on technology, and by meeting individual customers on site in Asia to better understand their needs.
We have established a niche market by providing innovative solutions to both customers and suppliers, striving to build bridges where there is a shortage of technology, materials or equipment for our network of clients, and by providing cost effective and reliable solutions. We balance the requirements of each client with our customised problem solving approach to improve productivity.
We specialise in PSA materials, sourcing for the latest printing and packaging machinery, innovative printing technologies, and solutions to increase companies' efficiency and productivity for seamless business operations while simultaneously reducing costs. All these make each purchase from Tradeally a valued investment. Our consultancy services include recommending suitable printing supplies, machinery and spares according to your company's specific needs and budget.
Tradeally is committed to providing excellent services, value and responses.
We have succeeded in gaining trust and recognition from our customers around the world because of our dedication to providing the highest level of customer care and quality, reliable printing machines and equipment.
Tradeally International supplies printing machinery and products in Singapore, Thailand, Malaysia, China, the Philippines, Europe and the Middle East. We aspire to go beyond simply providing basic ideas by developing innovative solutions to our clients' problems.
Tradeally International functions and excels as more than just a trading company. We equate our customers' happiness with our own, and work with them to create lasting solutions. Every element of our work stems from our corporate philosophy of "creation through collaboration".
We take pride in our strengths in 3 areas that clearly distinguish us from our competitors:
Information: We are able to swiftly and accurately grasp market trends and up-to-date information worldwide.
Planning: We provide the know-how and solutions to explore applications of ideas, turning them into new solutions.
Organisation: We support a stable supply of solutions, ranging from products and services, through to our global networking, sales and service network.
INTERESTED IN WORKING WITH US?
Request a call and our knowledgeable team will get in touch with you shortly.